The Pavilion Cafe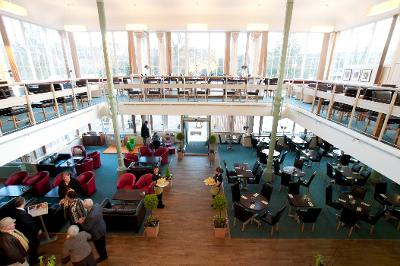 The Pavilion Café Buxton can seat up to 232 people in our superbly spacious area overlooking the Promenade and Gardens. Our Pavilion Café also incorporates a family area including a baby station with microwave and bottle warmer, as well as our toddlers soft play area.
Our chefs are very proud of the dishes that they serve and work extremely hard to ensure that you are presented with an extremely delicious and well-presented meal. We serve our breakfast range from 10.30am till 11.30am, at which point, we then serve our lunch items instead.
A copy of our menu is available to download below and you'll find that it offers and exquisite variety of dishes to suit any appetite, including inventive vegetarian options and mouth-watering desserts. All of our dishes are prepared fresh by our expert chefs and use the best local produce. Alongside our menu, our chefs often get creative and serve unique dishes from our specials board, as well as a soup of the day. Be sure to ask your server about these when you visit.
Our Pavilion Café also offers a healthy children's menu, as well as smaller portions of some of our main meals for those with a smaller appetite. You'll also find some very tempting cakes in our Cake Bar inside the main area of our Pavilion Café.
Please note that serving times in our Pavilion Café may vary.
Take a look at our delicious menu! [875KB]
View our kids menu to see what's available for the little ones [353KB]
Christmas Lunch Menu - 2018 [860KB]