The Gift Boutique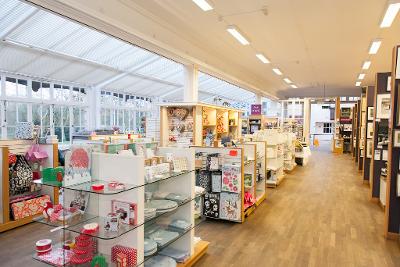 Our Gift Boutique sources items from local suppliers and as such there is always a unique variety of items on offer that are hard to find elsewhere. Our local suppliers put lots of energy and creativity into what they create with many items being crafted elegantly by hand.
A few of our regular suppliers include: Buxton Beer (Buxton), Wincle Beer (Wincle), Cottage Delight (Leek), The Old Cheese Shop (Hartington) and Mayfield Publications (Sheffield).
You'll find that we regularly change the items that we have on offer to ensure there's always something new for you to find. Among our Gift Boutique you'll usually find a delicious range of food and beverages including: jams and preserves, chocolate, biscuits, cakes, chutneys, beers and much more.
Alongside these delicious treats, you'll also find: greeting cards, candles, soaps, ornaments, cuddly toys, crafted items, books, toys, novelty gifts, maps, and much more. Our Gift Boutique ensures that you can take home a real taste of the Peak District and the exceptional talent that dwells within it.
The Gallery in The Gardens, home of the High Peak Artists' & Craft Workers' Association, contains the work of over 40 local artists and craftspeople from the High Peak.